Introduction
Sodium bicarbonate was previously recommended for hyperkalemia treatment and was once considered a first-line agent for the transcellular shift.
Studies evaluating the beneficial effects of sodium bicarbonate used an isotonic infusion commonly ~ 150 mEq/ 1000ml
Hypertonic sodium bicarbonate or "amp of bicarb" has an osmolality of 2000 mOsm, about 7x higher than plasma.
There's controversy as to whether hypertonic sodium bicarbonate is beneficial for the acute treatment of hyperkalemia due to modifications in the mechanism of action.
Sodium Bicarbonate in Hyperkalemia Pharmacy Friday Pearl
Sodium-Bicarbonate-for-Hyperkalemia.-pharmacy-friday-Handout.jlp1_.3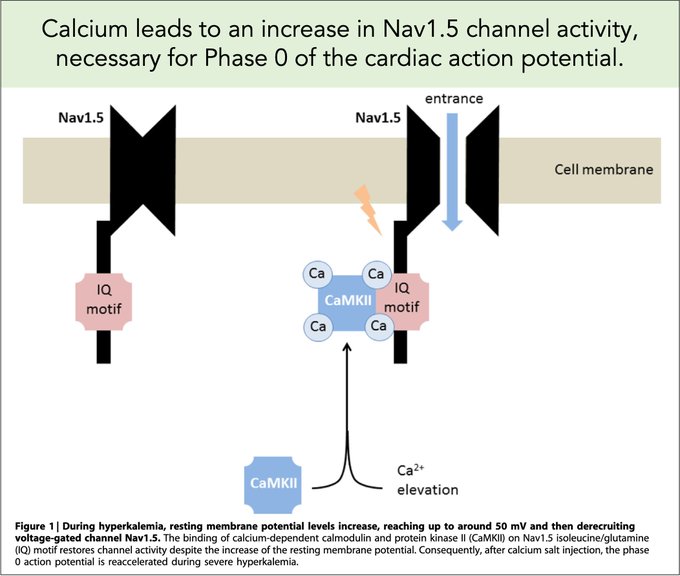 Related FOAM Posts
Refereneces
Aronson PS, Giebisch G. Effects of pH on potassium: new explanations for old observations. J Am Soc Nephrol. 2011;22(11):1981-1989. doi:10.1681/ASN.2011040414
Shingarev R, Allon M. A physiologic-based approach to the treatment of acute hyperkalemia. Am J Kidney Dis. 2010;56(3):578-584. doi:10.1053/j.ajkd.2010.03.014
Sodium Bicarbonate. Micromedex [Electronic version].Greenwood Village, CO: Truven Health Analytics. Retrieved August 29, 2019, 2018, from http://www.micromedexsolutions.com/
Gutierrez R et al. Miner Electrolyte Metab. 1991;17(5):297-302. [PMID: 1668124]
Fraley DSet al. Kidney Int. 1977 Nov;12(5):354-60. [PMID: 24132]
Blumberg A et al. Am J Med. 1988 Oct;85(4):507-12. [PMID: 3052050]
Blumberg A et al. Kidney Int. 1992 Feb;41(2):369-74. [PMID: 1552710 ]
Kim et al. Nephron. 1996;72(3):476-82. [PMID: 8852501]
Ngugi NN et al. East Afr Med J. 1997 Aug;74(8):503-9. [PMID: 9487416]
Long B et al. J Emerg Med. 2018 Aug;55(2):192-205. [PMID: 29731287]
Podcast: Play in new window | Download
Subscribe: Apple Podcasts | Google Podcasts | RSS | http://pharmsohard.com/